Sergio Busquets – the unsung hero of Barcelona's supreme dominance
Ahead of the Champions League Final on the 28th May…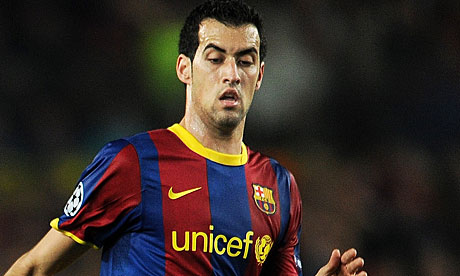 Reputation is everything in football. Sergio Busquets would rather you not talk about his, though. Not long ago, the 22-year-old was celebrated solely for his talents. Robust in the tackle, an eye for a pass and blessed with "an excellent first touch and great balance", according to Xavi Hernandez. Sometimes simplicity is the best option in a position where Busquets says is, in a 4-3-3, the "most demanding" in football.
Every now and then, some would label him 'cheat', but that is certainly bearable; after all, he's not the only one to dramatise and look for decisions during a game. For a player as young as he is, and to win as much as he has, the alleged events that took place in that most unseemly first leg of Barcelona's semi final tie with Real Madrid was disgraceful if true, but equally as disappointing for such a gifted footballer.
A simple Google search of 'Busquets' in present day tells you all you need to know; the word 'racist' beside his name is the very first search suggestion and many, including his Spanish teammate and 'friend' Iker Casillas, are not happy at UEFA's failure to charge him. If indeed Busquets called Marcelo "a monkey" then a lengthy ban should be the bare minimal – especially for an organisation who campaign to prevent this very thing. (In UEFA's defence, the evidence itself is deemed suspicious and many have dismissed it altogether.) As it happens, he is free to play in the Final on Saturday and while we can rightfully claim injustice (because, if true, Busquets has no defence), there is no question as to how important the Spaniard will be at Wembley.
Busquets will be crucial for Barca at Wembley
Busquets' emergence as one of the best defensive midfielders in the world happened in a relatively short period of time. He has been somewhat lucky, it must be said having had the ideal environment for any footballer but that's not taking anything away from him. His contribution to the team, be it Spain or Barcelona, has been integral and despite not earning nearly as many rave reviews as Xavi or Iniesta, he remains just as essential to his side. Javier Mascherano, signed last season by Pep Guardiola with intentions to bolster their midfield (an area with undoubted quality, but lacking depth), has been forced to play second fiddle to Busquets yet seems unfazed, instead rather envious of his talents:
"Xavi and Iniesta are the most creative midfielders in the world, but, above all, there is Busquets," says Mascherano. "He has the talent to play for any team anywhere in the world, but he's made to play for this team. Literally, he's the perfect guy. He robs the ball, he has superb technical skills and brings tactical order. I watch him and try to learn from him."
<Figure 1> Adding onto the fact that he managed so many successful passes in 90 minutes, note his positional discipline.
The notion that the holding midfielder is as important as any other player on the pitch is an almost correct one; their role might seem fairly straightforward but for a player like Busquets, he must be able to read the game and again, it is harder than it sounds. When Spain beat the Netherlands in the World Cup Final last summer, many had observed Wesley Sneidjer, talked up pre-match as the player who can win the game for the underdogs, was uncharacteristically forlorn. The tactics site Zonal Marking had analysed how Sergio Busquets was able to keep Sneidjer quiet, also noting just how disciplined he was in doing so. He will look to do something similar on Saturday – any battle with Wayne Rooney will be intriguing.
It's important to recognise just how good a player Busquets is. Ian Holloway, in trademark fashion, spoke of the importance of the defensive-minded player in midfield and how they are just as essential as the match winner himself: "It's all very well having a great pianist playing but it's no good if you haven't got anyone to get the piano on the stage in the first place, otherwise the pianist would be standing there with no bloody piano to play." There's a tune we can all sing to.
Back in 1991, Busquets' dad, Carles, kept goal and conceded twice in a game he'd rather forget where Manchester United ran out 2-1 winners over Barca in the 1991 Cup Winners Cup - but when Sergio had his chance against the same opponents, he didn't blow it. He produced a midfield masterclass in Rome back in 2009; since then, he's improved considerably. If United lift what the Spanish call La Orejona (meaning big ears) on Saturday night, it may well be that Busquets has a bad game – but, as teams in the Primera División know only too well, that doesn't happen often.
To end, I'll leave you with this video. Try not to press the 'replay' button too much though, like I did.
<Figure 2> A compilation of all that we should envy of Sergio Busquets. Note his positional awareness. (You might want to mute the sound.)