Archive | March 2011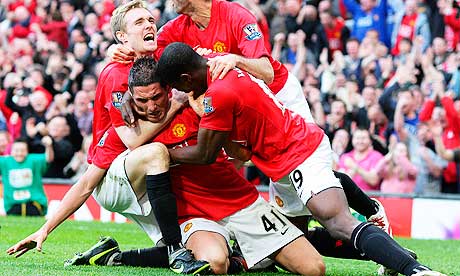 "This survival of the fittest…" – Herbert Spencer
By 'fittest', of course, the great English philosopher Herbert Spencer didn't mean a human being that is in good physical shape – but, as the modern man does and will continue to do, we can easily interpret it to mean that in this very situation. With Sir Alex's willingness to bring back his loanees, the likes of Federico Macheda and Danny Welbeck among them, there is certainly competition and little room for error.
United are both blessed and spoilt with forward players at the same time; strength in depth is good if there is a clear system in how to utilise that 'strength' effectively. With so many at their disposal (including the main trio and others such as Bebe, Owen and Mame Diouf) it only makes for a situation in which an individual or two will be left rather displeased. Take Danny Welbeck for example. Having enjoyed a breakthrough season on loan at Sunderland, he has found comfort on both the flanks and in the middle, but an inevitable return to Old Trafford might only end in tears.
Welbeck's case is a funny one. United must recall him, no question, but for a player with so much potential and raw talent, his development might be stifled if he is used as a bit part player. Indeed there is no better place for a player to develop than at Old Trafford under the useful guidance of Ferguson and co. but he can only go so far without a proper forum in which to showcase his abilities and capabilities. Whatever he might do, he'll still find it difficult to budge any of Javier Hernandez, Wayne Rooney or Dimitar Berbatov.
Perhaps, Welbeck has it easy. Perhaps. If, as promised, Diouf and Macheda return it does leave United in a situation that is not quite so ideal. Diouf doesn't quite look part of the jigsaw; he has impressed to an extent at Blackburn Rovers despite a modest return of 6 goals in 26 and has won some over with his work rate and the fact that he does compliment Rovers' system. He shouldn't be regarded as an out-and-out goalscorer but it isn't too much if you were to ask him to simply score more. By observation, his style of play is better suited to Blackburn rather than United. A loan renewal or selling him altogether is, regrettably, the best option.
Macheda, for all his talent, seems to give off the indication that he either plays regularly for the club or move on. He is still young at 19, but it is understandable to think that he is ready for top-flight football. A career in Italy probably best tickles his fancy. Depending on who you ask, his loan spell for Sampdoria hasn't exactly reaped the rewards that manager Alberto Cavasin might have first envisaged. Should he leave? With even more regret, the answer is yes (unless he is persuaded to join an English team on loan). Competition would simply be far too fierce and survival might just elude him.
Michael Owen will get another year, it looks. He still has something to offer (beside the entertaining tweets) and the thinking is that Sir Alex will use him much like you'd imagine for any other 5th choice – not often. He'll play the odd domestic cup game. His time is running out and has been plagued by injuries that has not allowed him to excel. The difference between Owen and Macheda is that the former might accept his role as a cameo player. Macheda won't. At his age, he'll need games and you just don't see that happening at Old Trafford. And Bebe? Having just played a handful of games, his United career would, you'd think, be prolonged at least another season. He will surely loaned out elsewhere but you feel that his fate is sealed too.
It is a touch pessimistic to write off the careers of a few individuals who do have great potential, but there looks to be little room for them all. And if it does so happen that all are kept at Old Trafford, it will create an unnecessary headache that could be avoided and frustrated egos will be brimming to the top. Even the best have to make sacrifices.