Talking Tactics ahead of the Crawley clash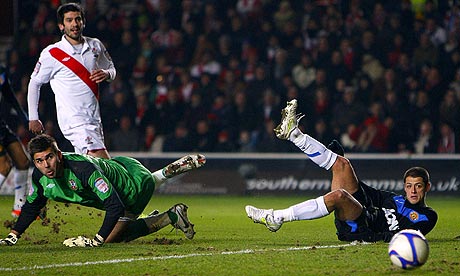 The journalists have been waiting for this. "The Big One," I hear one say gleefully. "Red Devils v Red Devils!" exclaims another. But the truth is, they're most likely to be disappointed. A giant-killing is improbable at Old Trafford, unless of course, you mean that literally and United thump in goals from all corners.
It's all a bit ignorant to suggest Manchester United will sail through to the next round, indeed, they floundered against Exeter City in 2005 with a relatively strong line-up drawing 0-0 at home. But a shock of such magnitude is still against the odds – United should prevail but might find it difficult at times to break down a team stubborn and pumped up for the occasion.
Despite doing a 'Talking Tactics' piece last week on the Manchester Derby, this one is slightly more difficult to talk about for two reasons: one, Crawley Town's preferred shape and tactical ideology are an enigma to the Average Joe and two, because as to who United will start with is equally as mysterious. That is the just the nature of these type of games though.
Sergio Torres is a familiar name although he is one of those types who you can't really put a face to the name. I do know, however, that he doesn't cost £50million nor does he have something of a feminine presence (Google 'Torres ladyboy') when on the pitch. Crawley tend to play a 4-4-2, as some extensive research suggests, but you would think they might opt for something on the defensive side for the game.
Crawley are minnows, but, make no mistake, United won't treat them lightly. It is expected that Sir Alex will make wholesale changes, allowing fringe players to have another shot on the domestic cup stage. That does mean Darron Gibson, folks. Michael Owen is set to miss out, so we might even see United play a 4-2-3-1 with Bebe and Obertan on the flanks, with Javier Hernandez leading the line. Owen is out with a groin injury, perhaps suffering the same fate as this man.
Who Fergie will stick in the centre is anybody's guess. Well, actually, it's not. Gibson starting is pretty much assured and Carrick looks set to partner him with might be a Anderson playing slightly higher. Crawley will fancy their chances and if they were to do the impossible and score, it would come from set-pieces. United must take the no-nonsense, solid option and stick with Chris Smalling, who would no doubt be brimming of confidence after his excellent performance against City last Saturday. Jonny Evans should parter him, while Fabio will assume duties at left back.
Can Crawley do one over United? Their chances look slim – but they should hold a strict, tight line at the back and aim to frustrate United. Perhaps, they'll field a five-man midfield, too, trying to stifle United's midfield and decrease the presence held by the likes of Anderson, Carrick et al. In fact, Man United's 4-2-3-1 might just suit Crawley Town – if they able to restrict United's midfield like City were able to do then Hernandez might struggle, much like Rooney who was isolated in the Derby. It's unlikely that the visitors can pull of a shock, but that's the type of things you say when you're a Manchester United blogger trying to stay as unbiased as possible. My head says United should walk this.
United (4-2-3-1): Lindegaard; O'Shea, Evans, Smalling, Fabio; Carrick, Gibson; Bebe, Anderson, Obertan; Hernandez