Sir Alex's "no value in the market" comment rings true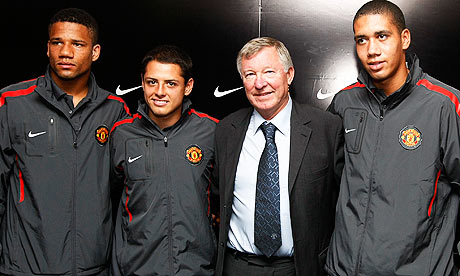 "It is amazing the amounts of money that are being bandied about in the present-day game." Sir Alex Ferguson, August 2010
How much has VAT increased by? Apparently, a lot, if some of the transfers today are to go by. Chelsea have captured Fernando Torres for a hefty sum and Benfica's David Luis for £20million, but perhaps, the biggest surprise is Andy Carroll's move to Anfield. Reports suggest the Merseyside club have paid up to £35million for his services.
Yes, Carroll is the most promising new forward England have had since, well, Wayne Rooney and you'd expect him to attract the attention of the bigger clubs. However, £35million (£5m more than United spent on Rooney) might be a tad over the limit for a player who has experienced a somewhat-mixed campaign, important goals sandwiched by injuries in what is, remember, his first 'proper' season in the top flight of English football. His actual valuation should be at something around £12-15m. This sort of spending is what Sir Alex would most probably describe as "kamikaze".
There was once a time where Manchester United led the way in splashing out the cash in the transfer window; United paid over £30million for Rio Ferdinand in 2002, and they followed that up spending similar amounts for (to name a few) Juan Sebastián Verón, Wayne Rooney and Dimitar Berbatov. But since then, United's focus has been solely on youth – and if they were to spend a considerable amount of money, it would perhaps be used on a player who has still yet to hit his peak and yet to become an established name – for example, Javier Hernandez, Chris Smalling (to an extent) and Bebe.
Fergie has often been criticised by United fans for his comments of there being "no value in the market", and in some instances he has been proven wrong; take Rafael van der Vaart's move to Spurs for £8million and even his own swoop for Hernandez, believed to be around £7million. Barcelona have too landed a bargain in the shape of Ibrahim Afellay, the 24-year-old Dutchman, for the princely sum of €3million. Although you could argue that Fergie's hardly been proven wrong – and that he has just generalised current spending, and in that sense he's right.
Look at Darren Bent's transfer to Aston Villa – even a generally clinical striker like him isn't worth £24m. Heck, it's debatable whether he's worth half of that sum. Manchester City (surprise, surprise) spent exactly the same amount on Joleon Lescott in 2009 – that signing, in hindsight, would hardly be deemed successful, would it?  There's a feeling shared amongst many that United need to spend, however, the trouble is, what and who can Sir Alex spend his funds on? Frustrated at the lack of activity or not, this transfer deadline day certainly suggests Sir Alex was right all along…