It wouldn't do justice to send Tom Cleverley out on loan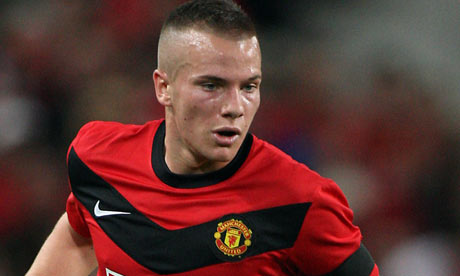 England fans may point to Paul Gascoigne's tears in Italia '90 as their most defining 'Gazza' moment, but certainly his single greatest moment for the national side came in 1996 where he had scored a sumptuous solo goal against Scotland. That goal will forever be remembered with drewy-eyed fondness.
Now, young Tom Cleverley isn't somebody you'd associate with Gascoigne; why would you anyway? Unless, of course, Cleverley likes to bring chicken and a fishing rod to help curb a crazed murderer. Nevertheless, his goal against the MLS All-Stars in the 5-2 romp was very Gazza-esque, evoking memories of that goal in Wembley.
That pretty much is the story of Cleverley's United career so far. A scorer of great goals in pre-season, but non-existent when the real business starts. And if reports are to go by, Cleverley is set to go on loan once again. That said, his spell at Watford last season had seen him improve as a player a great deal, but there was the feeling that his success at the club was limited. What's to say that this campaign will be any different; Sir Alex has spoken of his plans to send him out on loan. Really, it wouldn't do him justice. All signs are pointing to a bright career, but United will need to utilise his ability at the club and nurture him at Old Trafford rather than elsewhere in order to see the most development.
Of course, you would argue that first-team places are limited, but Sir Alex should look at some examples at the club like John O'Shea and, in particular, Darren Fletcher who has risen from the shadows after developing at a steady rate whilst at the club, and such was the success and manner of his nurturing that Fletcher is now recognised as one of the better central-midfielders in the game today. He is the living example that staying put and fighting for a place is the best way forward.
Certainly there is no harm in doing this, and Cleverley is sure to benefit. What he possesses is great passing ability paired with equally good vision. He is also versatile, and we know he has an eye for goal. In truth, I haven't been excited about an individual quite like him for sometime and it almost feels like a new signing. It just wouldn't do him justice to offload him elsewhere.
———
Keep Manchester United Green & Gold – SIGN the petition: http://bit.ly/cfg74Q