Jubilation as United snatch victory in pulsating tie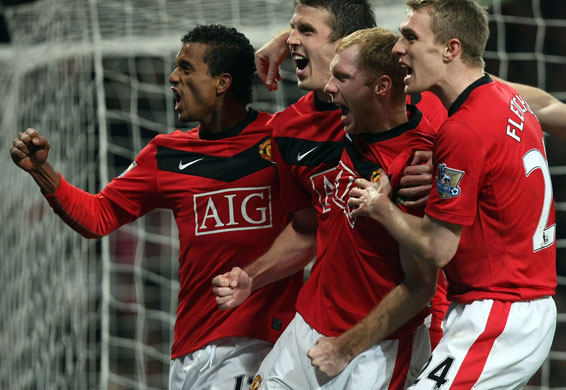 This was a game dictated by passion and emotion. When Wayne Rooney had scored the winning goal in injury time, the smile and jubilation on the Manchester United players faces suggested that this victory wasn't just a semi-final triumph, but even more than that. This was a victory over their bitter rivals, who were just 90 minutes away from their first final in ages, as a second half masterclass performance had swept them away.
Old Trafford was noisy, full of atmosphere during this pulsating tie in which Manchester City were under pressure not to throw away their 2-1 first leg lead. But after a nervy first half came to an end without the deadlock being broken, something had to change in the second. And it did, veterans Ryan Giggs and Paul Scholes leading from the front and inspiring United to a famous victory over their rivals.
This City side are 'going to be the biggest and best football club in the world' in the future, well, according to City's chairman Garry Cook, but trophies determine how good a club are. That will take some doing. Money doesn't buy success. For the moment, the Red Devils remain the top side in Manchester, and that may still be the case in years to come.
Emotion will sometimes get the better of you. This football match had many a incident, from the spat between Micah Richards and Darren Fletcher to the coin thrown at Craig Bellamy by a United fan. If not for some superb, clever refereeing from Howard Webb we may have seen more yellow cards. In fact, he waited until the 35th minute to show a card despite tempers rising and the numerous reckless tackles. Webb had done his best to keep a lid on things, so good on him. A good match for the ref for once!
Seven minutes into the second half, Man Utd found a breakthrough. Paul Scholes the scorer, his drilled shot beating Shay Given. Scholes was terrific in this game, pulling the strings from midfield. In fact, the midfield five, made up of him, Giggs, Michael Carrick, Fletcher and Nani were superb throughout
The lead was doubled minutes later, Carrick adding a second after Fletcher had served it up on the plate for him. Rooney nearly made it 3-0 but had shot wide. Wembley was still on the horizon. But then, Old Trafford was silenced by a Carlos Tevez goal shortly after, and the game was heading into extra time. 2-1. Something had to happen. Something had to give. There was still more drama to follow.
Extra time was looming. 30 minutes more. That was until Giggs had picked up the ball and sent a lovely ball into the path of Wayne Rooney to head home and United were triumphant. The final whistle blew moments later, and this game will forever be remembered as a classic. Aston Villa in the Carling Cup final in February. Bring it on!