Rooney atones for mistake in typical fashion against spirited Tigers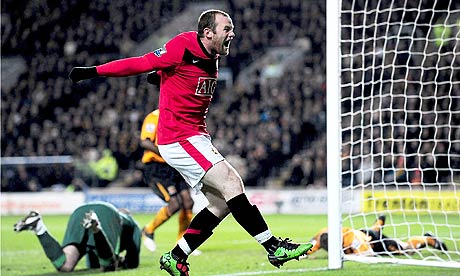 Hull City 1-3 Manchester Utd
Traditionally, Manchester United start to shine around post-Christmas time. Judging by this latest performance, I am still not sure. Of course, Manchester United won 3-1, but I find this scoreline rather flattering. But if Man Utd are to get their season back on track, then three points away from home is the way to do it.
Hull City were scrappy, but determined and you can't fault their spirit throughout the game. Wayne Rooney had a funny old game, giving the ball away three times, one of them proving to be costly at the time. At the other end, he scored one and created two. A funny old game, this.
The first half was end-to end stuff but nothing came off at either end. The deadlock was finally broken when Rooney had converted Fletcher's magnificent cross which had shades of David Beckham. Earlier, the Welshman had two efforts on goal, the first a volley which landed in the roof of the net, the second a free-kick which was a whisker away from Boaz Myhill's net. Rafael had the best chance when he was one-on-one with Myhill but his shot was weak.
On the hour mark, the Kingston Communications Stadium (how much knew that's what KC stood for?) was sent in raptures after a penalty had been awarded as Rafael has bundled over Jozy Altidore in the box. This all came after Rooney had gifted the ball to the opposition attempting to pass it back to Kuszczak. Craig Fagan had routinely dispatched the spot-kick.
Hull were close to taking the lead – Seyi Olofinjana's stinging strike forcing a fine reflex save from Tomasz Kuszczak. United hadn't played great in this game but their were signs of improving as the game grew on but, Hull continued for a short period to pepper United's defence but to no avail.
A quick counter attack brought about the second United goal, and when Rooney had closed in on goal, he drilled a low testing ball which City's Andy Dawson could do nothing about. Trying to prevent it reaching Park, he had scored an own goal as he was powerless to prevent United from scoring. Rooney looked like a man on the mission from here on in, and he set up the third and final goal teeing up Berbatov and that was that.
You can't help but praise Rooney. He ever rarely makes mistakes, and for the final half hour he was by far the best player. "It's a relief," he said post-match. "When they got their equaliser it was a mistake by myself. It's the first time that's ever happened to me and it's not a nice feeling. I didn't want to let down the lads though I was more worried about what the manager might say. But thankfully we got the win, which I'm pleased about because the manager would not have been too pleased."
It is three points at the end of the day. A win was the minimal requirement after Chelsea had dropped more points and Arsenal had earlier beat Aston Villa 3-0. I believe Arsenal are going to have their best League season for some time, though they normally falter and fade away this stage. They are winning convincingly so should not be taken lightly.
Anyway, next up for the Red Devils is a game home to Wigan, a team they beat 5-0 in their own backyard earlier on this season. Hopefully, we can have a better performance than this one and continue to pile on the pressure on both Arsenal and Chelsea.