The Top Six: Matches of the Decade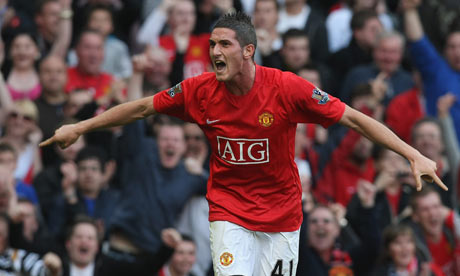 Tottenham Hotspur 3-5 Manchester United 29/09/01

What a truly magical Manchester United performance. 3-0 down at half-time and a huge defeat was on the cards. But Sir Alex Ferguson's hairdryer must have done the trick at the interval as United had responded from their dismal first half to score five goals. David Beckham, (the cursed) Laurent Blanc, Andy Cole, Van Nistelrooy and Juan Veron all scored in a remarkable Premier League game.
Manchester United  4-3  Real Madrid 23/04/03

This unforgettable European night will also be remembered, not just because of the seven goals scored, or the fact that the world's best team at the time were beaten, but because this was David Beckham's final game in Europe in a red shirt. And fittingly, Beckham scored a brace, including a trademark free kick against his prospective employers. Still the victory was a losing cause as Madrid had beaten United 3-1 in the first leg.
Manchester United 7-1 Roma 10/04/07

Another European night not to be forgotten. Beaten 2-1 a fortnight ago, the Red Devils needed to play better. And play better they did, almost scoring for fun. Michael Carrick set the tone with a lovely strike before Alan Smith's majestic goal had made it 2-0 ("THE FORGOTTEN MAN IS BACK!". Rooney and Ronaldo had scored before half time, Rooney's goal particularly 'scintillating' in commentator's Clive Tyldesley view.
Ronaldo scored his second shortly after the break, Carrick had once again struck with a sweet shot on the edge of the area. The visitors pulled a goal back, before Evra's strike had brought the deficit back to six. Watch all the goals here.
Manchester United 1-1 Chelsea (Pen 6-5) 21/05/08

If John Terry hadn't missed that decisive penalty then, of course, Chelsea would have been crowned European champions. But it wasn't to be for the skipper, and the rest, as they say, is history. When Van der Sar saved Nicolas Anelka's penalty, Moscow's Luzhniki Stadium was sent in raptures.  67,000 had watched one of the most tense Champions League finals ever, eventually decided on penalties after first half goals by Ronaldo and Frank Lampard.
Manchester United 3-2 Aston Villa 05/04/09

No one had heard of this young lad outside Old Trafford. With the score at 2-1 and Aston Villa heading for a famous victory that would surely dent United's hopes of a third successive title, teenager Federico Macheda was brought on.
With ten minutes left on the clock, Ronaldo had equalised with a low shot which had beaten the goalkeeper. And with precious little time left, Macheda had found the ball in space, turned the defender and his shot had beaten the 'keeper all ends up. A dream debut for someone who wasn't even supposed to play, and a game that would always be remembered.
Manchester United 4-3 Manchester City 20/09/09

A great Manchester derby at Old Trafford which had everything. Controversy, blunders and last minute drama, this match had it all. Craig Bellamy had taken full advantage from a Rio Ferdinand mistake with a goal which put the scores level with only added time to play.
But as the game grew closer to an end, Michael Owen was free in space and finished confidently to seal victory for the Red Devils. City were furious, claiming the allocated added time had already been played. Calls fell on deaf ears, and a dramatic derby had come to a close.
Also in this series: