Archive | December 2009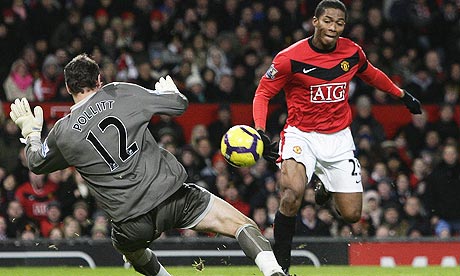 Manchester United 5-0 Wigan Athletic
Manchester United normally perform to the best of their ability post-Christmas time, and that was evident here on this cold evening at Old Trafford where Wigan were better off staying at home watching Piers Morgan's Review of the Year.
Even though the score remained goalless for about a good 30 minutes, there was always going to be one result. Chance after chance for the home side as Wayne Rooney, Antonio Valencia and Rafael particularly good at exposing the visitors. The gap at the top was closed to two points with this 5-0 victory, and in fairness it could have been around 8-0.
Rooney had hit the woodwork, beating Chris Kirkland but the post denied him. Minutes later, Rooney had opened the scoring in this men-against-boys encounter, after his angled finish from Rafael's cross had beaten the 'keeper. The lead was doubled in no time as Carrick had literally passed the ball into the net in another slick move, Valencia supplied the ball for the central midfielder and he routinely dispatched.
Rafael had then scored his second ever goal for the club, a low left footed strike beating Kirkland just before half time. Easy. Rafael dedicated his goal to his brother Fabio, a second half sub, pointing in his direction much to the delight of his twin sibling.
Valencia's former club had found him to be a pain on the right hand side, with Rafael adding good support just behind him. Carrick and Fletcher controlled the centre with ease, and Rooney and Berbatov's one-touch movement had forced Wigan into their shell. Half time, scoreline 3-0. Game, set and match.
Berbatov converted another Valencia cross to make it 4-0, and Roberto Martinez was running out of hair to pull out. But now the hosts could afford to take their foot off the gas and for a brief spell, Wigan had equal share of the possession but chances were rare. Charles N'Zogbia had a glorious chance, which he hit wide. Moments later, he was subbed. Instead of joining his colleagues on the bench, he instead stormed off for no real reason into the tunnel probably trying to catch the last few minutes of Piers Morgan's ITV show.
Valencia capped off a fine performance with an easy finish, collecting Rooney's pass in his stride and beating Mark Pollitt, a second half substitute, to make it 5-0, a repeat scoreline of the thrashing at the DW Stadium earlier this season. What a way to end the decade. Six titles, could be seven come May 2010. And what a way to celebrate the birthday of Sir Alex Ferguson 68th birthday today.
Kuszczak 7, Evra 7 (Fabio 6), Brown 7, Vidic 8 (Anderson 6), Rafael 9, Park 6, Carrick 8, Fletcher 8 , Valencia 9*, Berbatov 7 (Welbeck 5), Wayne Rooney 9