Archive | November 2009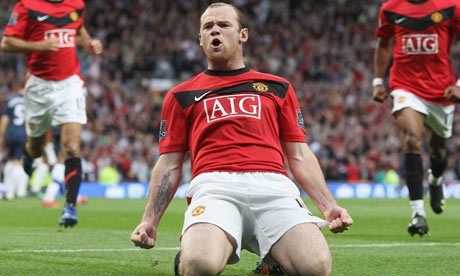 Match Observations: Portsmouth 1-4 Manchester United
The scoreline may suggest that this was an easy, comfortable victory but this unfortunately was far from it as set-pieces had played a large part in a game, where, Portsmouth had had slightly more goal attempts that United in a game which had three penalties. But even though I'm sounding pessimistic, this game had plenty of positives such as the heroics of Tomas Kuszczak or even more so the partnership of Antonio Valencia and hat-trick hero Wayne Rooney.
Though his hat-trick was not very glamorous, the link up play between the new England captain and Valencia was reminiscent of the old Rooney-Ronaldo days, when they blew a team's defence apart with a mixture of everything, ranging from pace, quick passing, one-two's, you name it. Such a 'mixture of everything' was on show at Fratton Park, with Valencia constantly running at the defence, and though Rooney scored three, Valencia was my man of the match.
Antonio Valencia surged down the right, exchanging passes with Rooney with ease and precision and that led to the first goal after Avram Grant's side had taken early initiative with a host of chances, many of which Kuszczac had saved expertly.
A break from United had pushed Pompey back, and the exchange of passes with the duo led to a penalty, in which Rooney was fouled and referee Mike Dean pointed to the spot straight away. Rooney duly converted but not before long the scores were deservedly level in an undeserved way. Dean had again pointed to the spot, but it was unclear to why this happened. Did Kuszczak foul someone after he had punched the ball away, no contact seen on replays, and a suggestion that Nemanja Vidic had pulled a shirt also looked an unconvincing claim.
Kevin-Prince Boateng stepped up and beat the 'keeper, so the scores were level. The 4th official should thank his lucky stars that Sir Alex had his touchline ban or else. Portsmouth had been the better side in the half, so the home side would have been quite happy with the scoreline going in to the break.
But, United had made the perfect reply shortly after the interval. Giggs, 36 today, had found Rooney in a trademark Man Utd attack, and Rooney done the rest with a easy finish. Portsmouth had been rather quiet, struggling to find an equaliser, and soon another penalty was awarded. Giggs had been fouled, and Rooney once again scored from the spot. Hat-trick for him, in stark contrast from his first ever one against Fenerbahce on debut. This one not as special, nor as dazzling.
Giggs then finished things off with a free kick which brought about his 100th goal. Manchester United were far better in the second half, many thanks going to the goalkeeper and the partnership between Rooney and Valencia, who has wasted no time settling in. Three points for United, not a glossy performance but still, a good day at the office.