Live Carling Cup: Barnsley v Manchester United
Barnsley 0-2 Manchester United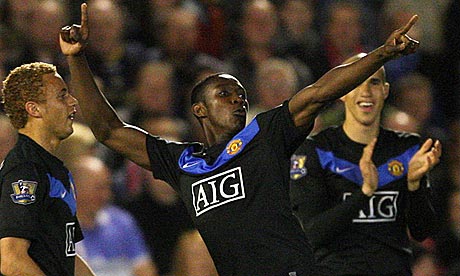 Wrap Up: A decent performance from a youthful side but they were prone to many crosses and did not defend well. Ben Foster played well and made a string of saves to deny any kind of goal. We have disclosed our ratings so check that out. Hope you have enjoyed the live text!
Player Ratings: Foster 8*, Neville 5, Brown 6, Evans 6,
Fabio Da Silva 5, Obertan 7, Rafael Da Silva 5, Anderson 5, Welbeck 7 (Tosic 6), Macheda 6, Owen 7 (De Laet 6).
90′ FULL TIME: Barnsley 0-2 Man Utd
90′ Can Barnsley press for a goal? Doesn't look like it. Three minutes added on. Then two intruders come on to the pitch and one of them score! Past Foster! Stewards take an awful long time to clean the 'mess'. More minutes to be played now. Surely, the guy who scored should be signed by the Tykes as he is far better than that Anderson da Silva!
89′ Anderson has an effort easily saved by the 'keeper. Fabio and Hamill clash heads because of Hamill's challenge on Fabio. Should have been booked. Hamill is a Liverpool supporter too! Tosic is booked minutes after.
87′ Ben Foster kicking is a problem. He can't clear the ball all that well. He's a good shot stopper but unlike Van der Sar can't clear the ball under pressure.
85′ Unsure who got booked their. Fabio booked even though it appears to be Rafael with the challenge. Mistaken identity. Can you blame Chris Foy?
83′ Reserve coach Ole Solksjkaer appears on the camera. Man Utd should win this game, but don't be surprised if the Tykes score a goal.
80′ Is it me, or does Obertan look like Mikael Silvestre? Anyway, Barnsley lose the ball but then United do the same. It seems like both teams are sharing possession. Butterfield (another subnamed after food, first Campbell Ryce, ) has a great shot but what a save by Foster. England call up more likely.
76′ Fifteen minutes to go. Both of the goalscorers have been subbed. Now Hamill takes a drilling run, but he ignores his option to pass and instead his weak shot is collected by Foster.
73′ It would be interesting to see either Matty James, Joshua King or Corry Evans coming on. Barnsley keep up the pressure and they have a corner but it results in nothing significant.
70′ Foster scampers back after warning signs were raised. A shot by Bogdanovic is saved well, though, for a corner. Then Anderson da Silva has a great chance but heads wide. He's now been replaced by Campbell-Ryce.
69′ Header turned wide from Barnsley. Man Utd will have to watch out. A nervy 22+ plus now. Looking back, how important could that goal be for Owen?
66′ Owen, the 2nd goalscorer has been subbed for Ritchie de Laet. Neville did get the ball but the follow through was reckless. Fergie's not going to get mad is he? He's already in a lot of trouble as it is.
65′ Here's a stat for you. United have had got four red cards this season. Scholes, Fabio, Vidic and now Neville. Bogdanovic has a shot dragged wide. A reckless tackle by Neville, looking at the replays.
63′ RED CARD! Gary Neville. Poor challenge and Chris Foy sends him off. 10 men down and can the hosts take advantage? Rafael is now right back.
62′ Surely that is it. Let's not celebrate now, but United should hold this lead. though, I must say, the defence has looked fragile. Obertan has a shot which goes for a corner.
60′ GOAL! Owen with a trademark finish! Bad Barnsley throw leads to the goal as Fabio finds Owen in space before he strokes home. 3rd goal for the striker.
58′ Fans singing at full volume now. How many times today has Fabio passed back to the 'keeper? A shot of the Barnsley manager, who apparently 'saved' Sir Alex's career, is shown. Tosic shoots wide but a bright start for the Serbian.
54′ Zoran Tosic, or Bambi, is on for Welbeck as United spread play. Tosic has his first touch. United are passing really well, but Anderson is dispossessed. The resulting counter ends up with a great chance for Barnsley, but the shot was hit wide by the other Anderson, Anderson da Silva
52′ First change set to be made. Welbeck may have a knock and unfortunately set to come off.
51′ Good start for the Red Devils. Most of the ball and they have to make sure they don't let Barnsley back into the game. Macken then swings in a dangerous cross but no one is at the end of it.
47′ We're underway.  Definitely United have to improve. Owen has a shot as I speak. Mis-hit strike but good run from the little striker. He has to prove his worth for Mr. Capello.
First Half Ratings: Foster 7, Neville 6, Brown 6, Evans 6,
Fabio Da Silva 6, Obertan 7, Rafael Da Silva 5, Anderson 5, Welbeck 8,
Macheda 6, Owen 6.
45+ 2: HALF TIME! Ratings to follow!
45′Anderson with a long ball searching for Owen. Owen been moving very well but still quiet. Two minutes added.
43′ Ball comes across the face of goal but no one was there to turn it in. Oooh. Living on knife's edge. They have missed to many chances have the hosts.
41′ An improvement by Barnsley. They have come into the game a lot more and have another corner. Luckily, nothing comes of it.
38′ First yellow goes to Anderson da Silva. Owen has been subdued but his positioning has been good. This first half has been super quick! Another yellow card, as the pacey Obertan is floored by Colace.
37′ Half time ratings to come at the break. Luke Steel (former United player) deals with a backpass and then Welbeck hits a shot over.
35′ First time the Tykes have reached this round for in ten years. Another corner, but easily dealt with. Obertan has been giving the ball away far too much.
32′ John and Edward, I mean Rafael and Fabio, haven't got into the game too much. Manchester United look like they are playing a 4-2-4.
29′ Home crowd starting to make some noise. Not much, but it's still noise. Bogdanovic and Macken have been superb so far. Another chance as I write. Anderson da Silva heads over. Oooh!
26′ I've been impressed by Hamill so far. Against, the hosts win a corner. Another header over the bar. Once again, could height be the factor just like I said?
24′ Another chance for the home side. United have a lot of small players, Is that their weakness? Yet, United have scored quite a few goals from set pieces and are the only side not to concede from set pieces.

22′ So far Barnsley haven't threatened. As I speak, Barnsley win a corner and look like they are growing in confidence. Bogdanovic has a header and he should have scored.
20′ There has been a lot of fouls so far. You can rate our live text below. Man Utd look comfortable.
17′ Foster under the spotlight and is pretty angry about something. Obertan has a shot well saved by the keeper. United showing their dominance.

15′ Hamill has a shot for the home side. A shot by Macheda is blocked. A few seconds after, Welbeck gives away a free kick.
14′ Obertan has been tipped as the next Thierry Henry. Can he live up to that? Lively start. Barnsley getting into the game slowly.
13′ Barnsley getting more possession now. But United look comfortable.
11′ Welbeck is playing brilliantly. He's working as hard as Dwight Yorke's toothbrush.

9′ Easy so far. Owen has a blocked shot. So easily could have been 2-0.
7′ Don't forget to publish your comments. Man Utd keep possession.
6′ GOAL! Danny Welbeck has a free header and nods it in with ease.
5′ Corner results in clearance but a few seconds later Obertan swings in a cross for Owen who heads over. A deflection. Corner.
4′ Pass from Macheda goes nowhere. That's Kiko's 2nd appearance this year. As I speak, he wins a corner.
2′ Interesting to see how Ben Foster does today.
19:45 – 1′ We're underway at Oakwell
__________________________________________________________________________
Barnsley: Steele, Kozluk, Moore, Foster, Julian Gray, De Silva, Colace, Hallfredsson, Hammill, Macken, Bogdanovic.
Subs: Preece, Campbell-Ryce, Hume, Hassell, Butterfield, Thompson, Devaney.
Man Utd: Foster, Neville, Brown, Jonathan Evans,
Fabio Da Silva, Obertan, Rafael Da Silva, Anderson, Welbeck,
Macheda, Owen.
Subs: Amos, Tosic, O'Shea, De Laet, Corry Evans, King, James.