Liverpool 2-0 Manchester United: Match Observations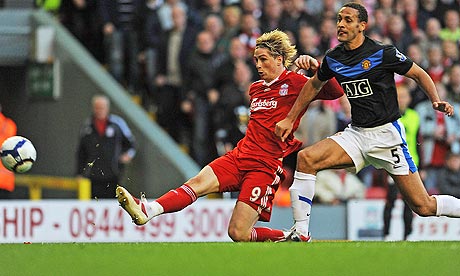 In all honesty, Liverpool deserved their victory. And whether you decide to blame the referee is your choice, but at the end of the day the team who had far more chances and looked better when they had possession deserved to win.
The harsh reality was that United failed to create much and were lacking any real cutting edge. Liverpool, on the other hand, did not look like a team that missed Steven Gerrard. Instead, the player who probably was going to miss if Gerrard had not been injured was arguably the best player on the pitch. It was Brazilian midfielder Lucas, who ran his socks off, created chances, including one of the goals, and only had one misplaced pass in the whole game.
Jamie Carragher could have been sent off but he too played a great game and someone who Liverpool rely heavily on. Nemanja Vidic had a tough game and was sent off. Though his first card was debatable, his second was a challenge you'd associate with rugby. Edwin van der Sar and Antonio Valencia were two of United's best players, the former looking very comfortable in goal while the latter continued his good form and looked very much at home. Valencia was also denied by the crossbar; if he had scored then it would have been three goals in three for the Ecuadorian.
United badly missed Darren Fletcher today as Paul Scholes was unusually quiet. Fernando Torres scored a great individual goal, and was too good for Rio Ferdinand but to blame the defender for the goal is an understatement. The final nail was hammered into the coffin when sub David N'Gog finished confidently much to the delight of the Kop.
But as the Red Devils usually do, they have to bounce back from this defeat which will definitely boost the morale of the Liverpool players. Next up is a Carling Cup tie against Barnsley, and one you'd expect Man United to win.