Manchester United 1-0 Wolverhampton: Match Observations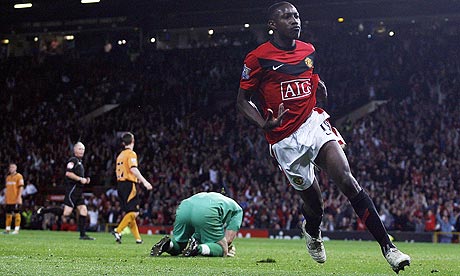 It's always a good sign seeing a young English striker score a goal like that. A piece of magic was needed as the game looked as if it could go into extra time as Wolves had fought hard throughout the game.
Danny Welbeck has huge potential. Terrific one-two, terrific finish. It was obvious that Man Utd were going to field a weaker side from the Carling Cup and didn't play too badly however there is room for improvement with some of these fringe players.
And another negative on the night was the fact that Fabio da Silva picked up a red card. He deserved to be sent off, and he'll have to learn from it. This would have been a perfect game for the Brazilian full back to illustrate his talent, and to show that he can carry the same form he showed last year with the reserve side.
Wolves had put United under pressure for the whole of the game, former red devil David Jones among the chances and was denied by Tomasz Kuszczak, who made plenty of other saves. It would be good if Sir Alex decides to give him the Stoke game, as the Polish 'keeper surely deserves a chance to prove himself as Ben Foster still looks a concern between the posts.
Gary Neville had a funny old game. Some good moments, some bad moments. His movement was encouraging and applied pressure to the opposition but some of his touches were awful, but did provide some laughs for the United faithful. Michael Owen, after his heroics on Sunday, also showed good movement but when a chance came in he shot tamely, and to be honest he should have scored.
Darron Gibson played positively and without doubt impressed the manager. It will be difficult for the Republic of Ireland international to play too many games but when it comes to playing Carilng Cup and the FA Cup he would have to grab the chance with two hands.
Overall, it was a decent performance. Just decent. On the 66th minute, Welbeck smashed home the winner after collecting a pass from Michael Owen, but despite having a few chances, the Wolves response did not bring about a goal.
Selection wise, it was the team that you'd probably expect in this competition. Premier League opposition were never going to be easy, but if Sir Alex does decide to play a similar team, let's hope they play a bit better than they done today, and he better not forget Danny Welbeck, because the boy has talent.