Manchester United 4-3 Manchester City: Match Observations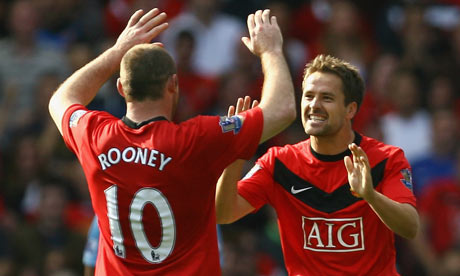 This was a thrilling Manchester derby. You could not fault either team's hunger. The game started and ended in a similar manner. It was madness. Seven goals suggests that the defending wasn't good, and that was the case as errors had twice cost United their lead.
It was supersub Michael Owen who saved the day. It was typical Owen. In the 95th minute, he was in so much space it was unbelievable considering the scoreline and the minutes on the clock. You can never doubt Owen's positioning nor can you doubt his finish. A trademark strike after the striker collected Ryan Giggs' pass and which won the game. A vital goal that could go a long way to United's title bid.
From the first minute, the game was open. With two minutes on the clock, some sloppy defending from the away side awarded United a goal. Patrice Evra found Wayne Rooney in the box, and after a few touches of the ball, shot low past Given.
Carlos Tevez's inclusion in the starting line up came as a surprise, but the treatment he got from the fans was not, but his performance today was the kind of one which had helped him gain the love that he once had from the Manchester United fans. You could not doubt energy and work rate and did put Ben Foster in trouble after the goalkeeper hesitated but thankfully nothing materialised from his interception.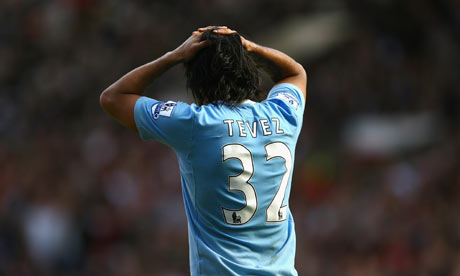 But a few minutes later, a repeat of that hesitancy from Foster, which we have seen on a number of occasions, and this time he was punished. Tevez intercepted him and found Gareth Barry to strike the equaliser. Rio Ferdinand, you may argue, could have dealt with Tevez if he had tried to tackle him but Foster was to blame for the goal. Great talent, but his decision making is poor.
Far more often, the home side lost the ball for the rest of the first half. But they responded well, Darren Fletcher restored the lead after heading home a Giggs' cross. City did not take long for their responce, Craig Bellamy fired a shot from 25 yards out which Foster was faultless. United brought Antonio Valencia on, and it gave them an extra dimension as the pressure was heaped on the visitors.
And again, Fletcher was the man in the right place, and again headed in another cross from Giggs. This had been a good game for Giggs, who did create 3 goals, as he rolled back the years with the ball at his feet. Dribbling at defenders, crossing and picking players out, this was Giggs at his best.
With 90 minutes played, nothing stupid was required. Not hesitating, no second thoughts, just keep the ball. But the ever so reliable Ferdinand made a schoolboy error. Trying to lift the ball, when a simple pass back would have been far more sensible, Martin Petrov took the ball and found Craig Bellamy who made a run into the box and squeezed the ball past Foster and looked to have sealed a draw.
Four minutes were added, but as 95 minutes had passed, City boss Mark Hughes angrily wandered why the game had not yet finished. A free kick was sent in, which hit the wall, into the path of Giggs, who again was the provider and Owen finished expertly. While Hughes was furious, Ferguson danced down the touchline. Another three points for the Red Devils, and deservedly so.
Man Utd Foster 4, O'Shea 6, Ferdinand 4, Vidic 6, Evra 7, Park 6 (Valencia 7), Anderson 7 (Carrick 6), Fletcher 8, Giggs 9*, Berbatov 6 (Owen 7), Rooney 7. Subs not used: Kuszczak, Neville,  Nani, Evans.
Man City Given 6, Richards 7, Lescott 5, Toure 6, Bridge 6, Wright-Phillips 6, Barry 7, De Jong 5 (Petrov 6), Ireland 7, Bellamy 8, Tevez 8. Subs not used: Taylor, Zabaleta, Garrido, Weiss, Ball, Sylvinho.
| | | |
| --- | --- | --- |
| Manchester United | Team Statistics | Manchester City |
| 4 | Goals | 3 |
| 1 | 1st Half Goals | 1 |
| 8 | Shots on Target | 4 |
| 10 | Shots off Target | 4 |
| 6 | Blocked Shots | 3 |
| 11 | Corners | 1 |
| 15 | Fouls | 16 |
| 0 | Offsides | 1 |
| 2 | Yellow Cards | 2 |
| 0 | Red Cards | 0 |
| 78.9 | Passing Success | 72.4 |
| 14 | Tackles | 26 |
| 85.7 | Tackles Success | 69.2 |
| 59.5 | Possession | 40.5 |
| 64.1 | Territorial Advantage | 35.9 |