Berbatov and Owen form mouthwatering combination while Giggs rolls back the years
Hangzhou Greentown 2-8 Manchester United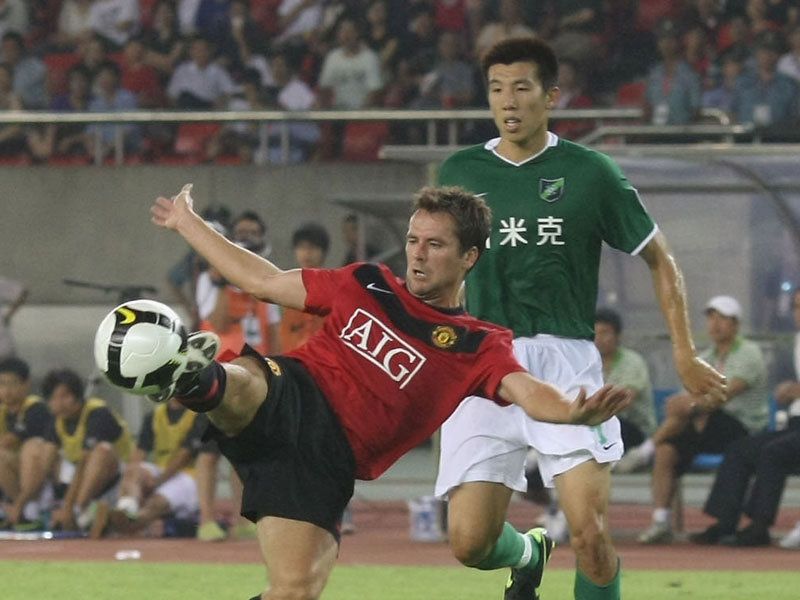 It may have been an exhibition match but it was truly a magical performance, as Ryan Giggs scored his first ever hat trick but even more encouragingly, forwards Dimitar Berbatov and Michael Owen combined to make a devastating partnership up front which effectively ended the game for the hosts within the first forty minutes.
Berbatov, in particular, was in top form as he created three assists and scored a goal which underlined United's dominance, and Owen continued to find the back of the net, with the first of his brace coming in the 24th minute when he tapped in a low Nani cross.
Berbatov volleyed in from close range with Nani once again supplying the cross before Tosic then picked up a ball from Berbatov and the Serbian lashed home to make the score 3-0.
Then with forty minutes on the clock, the Chinese support witnessed something magical. A clever flick by Berbatov was chested down and then volleyed home by Michael Owen. It was a sublime goal and hopefully a sign of things to come between the duo. You can watch the goal here.
After the break, Nani got in on the action after converting a Berbatov backheel. Then, on the hour, Ryan Giggs was brought on and scored twice in the space of 10 minutes before Wang Hongyou headed home a mere consolation goal to make it 1-7.
Patrice Evra was denied by the post, and Anderson then followed with an effort that hit the crossbar. He then provided the pass which set up Ryan Giggs as he had scored the easiest of goals to earn his hat trick.
Erivaldo Valdo smashed a late second for Hangzhou but at the end of the day, the Premier League champions werehappy to see the impressive partnership between Michael Owen and Dimitar Berbatov and Ryan Giggs' hat trick which showed, despite being 35, he still has a lot to offer the club.
To see all the goals, click here.