Season Analysis: The defence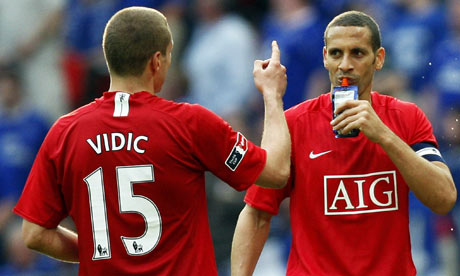 It was pretty much surprising that Manchester United ended the season with the second best defence, considering the fact that this was the team that kept 14 consecutive clean sheets. But overall, defensive performances have been impressive and the partnership between Rio Ferdinand and Nemanja Vidic is probably the best in the world. Arguably.
A few bad performances here and there, (Liverpool and Fulham spring into mind) but all in all a season to savour for the back four. This year has seen the rise of young full back Rafael da Silva, who has looked impressive at times but his inexperience has shown. While right backs Wes Brown and Gary Neville have missed many games, John O'Shea has deputised well for them.
Vidic has been United's best player this season, let alone best defender. He won United player of the year deservedly so,  and Man Utd fans will hope he can carry this form come August.
Ferdinand has had a troubled back injury this season, but apart from that has done his job. When he has been absent, young Jonny Evans found a place in the line up. A consistent player that is not afraid to go  into challenges and has a bright future ahead of him. Patrice Evra has has a decent season at left back, but has been significant both defending and going forward.
Rafael da Silva - Ratings: Tackling (6 out of 10), heading (5), composure (6), mentality (7), passing (6).
Overall 29 out of 50
John O'Shea - Ratings: Tackling (8 out of 10), heading (7), composure (7), mentality (7), passing (7).
Overall 36 out of 50
Rio Ferdinand - Ratings: Tackling (9 out of 10), heading (9), composure (7), mentality (7), passing (7).
Overall 39 out of 50
Nemanja Vidic - Ratings: Tackling (9 out of 10), heading (10), composure (8), mentality (7), passing (6).
Overall 40 out of 50
Jonny Evans - Ratings: Tackling (7 out of 10), heading (7), composure (6), mentality (7), passing (6).
Overall 30 out of 50
Patrice Evra - Ratings: Tackling (7 out of 10), heading (7), composure (8), mentality (7), passing (8).
Overall 37 out of 50