Ryan Giggs' PFA win maybe debatable but he always gives it 100%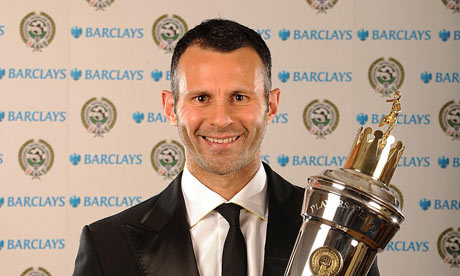 Ryan Giggs has now won the whole lot. Ten Premier League titles, four FA Cup trophies, two Champions League medals and now he has won the PFA player of the year for the first time ever despite being 35 years old.
"It's right up there with personal accolades – it's the best to have as it's voted by your fellow players," said Giggs after collecting his award.  "I've been fortunate to win a lot of trophies, I won the young player award twice, but this is the big one."
It was a surprise decision to many, as the Welshman was named ahead of the likes of Nemanja Vidic, Cristiano Ronaldo and Liverpool's Steven Gerrard despite making just 13 starts this year.
In those 13 starts though, Ryan Giggs has still looked the part and is still a constant nightmare for defenders. In 24 total appearances the winger has managed eight assists, which comfortably ranks him seventh in the top 10 in the assist league.
He gives it 100% on the field, linking up play with his fellow team mates and creating chances at will. Giggs' performances in the games that matter, the West Ham and Chelsea matches pop into mind is the reason why Sir Alex still has great faith in the veteran and still wants him to stay on for a couple more years.
Giggs has paid tribute to the Scot and insists he may still want to stay at Old Trafford beyond his current contract which expires at the end of the 09/10 season.  "The manager has been massive in my career from when I first met him when I was 13," Giggs said. "That's over 20 years and he knows me better than anyone and our relationship has been brilliant and just gets better.
"I've been so fortunate to have such a great career in so many great teams, it's not even worth thinking about what it would have been like without the manager."
"As long as I'm getting picked, enjoying it and injury-free, I'll carry on as long as I can. At 35 you can't look too far into the distance, you just can't."
Ashley Young of Aston Villa clinched the PFA youth player of the year ahead of Manchester United's Rafael, who signed a two year extension today that will keep him till 2013, and Irish defender Jonny Evans. United have six players in the PFA Premier League Team of the Year but surprisingly Wayne Rooney is not included.
Premier League team of the year: Edwin van der Sar; Glen Johnson, Rio Ferdinand, Nemanja Vidic, Patrice Evra; Ashley Young, Steven Gerrard, Ryan Giggs, Cristiano Ronaldo; Nicolas Anelka, Fernando Torres